Static overlay
Universal ERV and HRV Innovative Features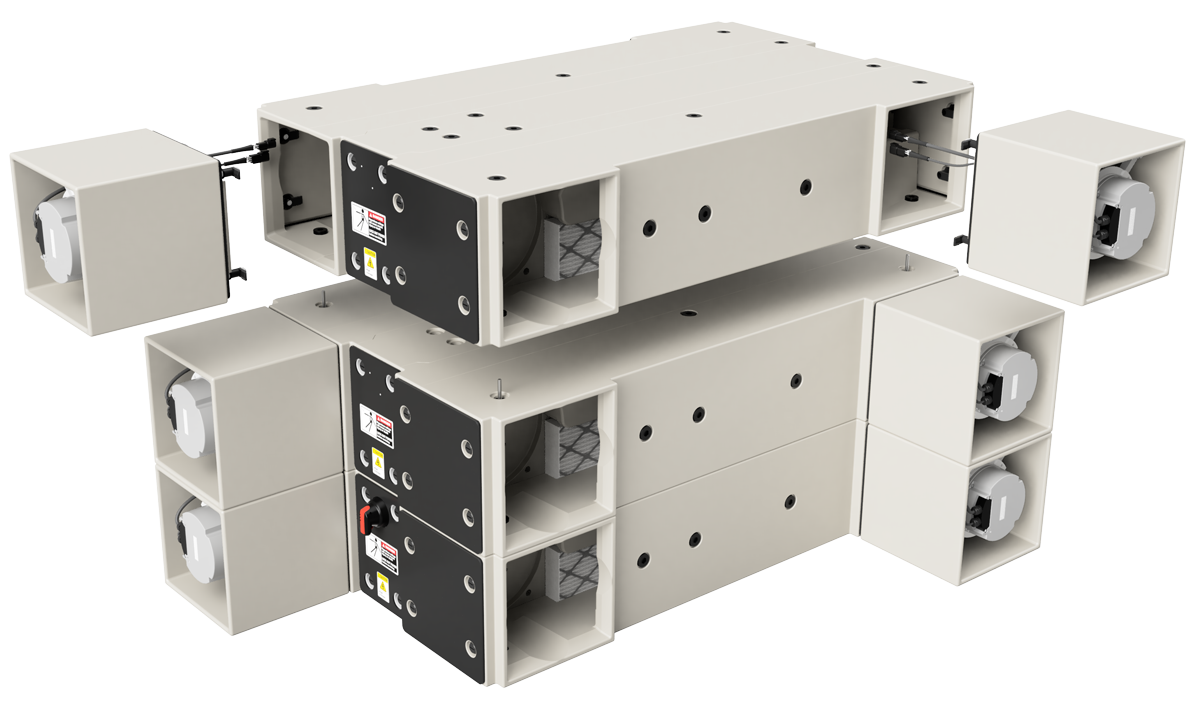 Energy Recovery Ventilation or Heat Recovery Ventilation Options
Energy Wall® offers both Energy Recovery Ventilation (ERV) and Heat Recovery Ventilation (HRV) options. These two categories, as recognized by the HVAC industry, define the moisture transfer characteristic of the heat exchange media.
Energy Recovery, sometimes referred to as Total Energy Recovery, transfers both temperature differential and water vapor (humidity) differential between airstreams. Typically, ERV is used in warm and humid climates to remove heat and humidity from outside air in summer months. The ability to transfer the humidity from the incoming outside air to the exhaust air significantly reduces loads on the recirculating cooling systems. 
Heat Recovery transfers only temperature differential – no humidity transfers between airstreams. Typically, Heat Recovery Ventilation is used in hot and dry summer climates or cold winter climates where humidity is not a primary consideration. Further details of both ERV and HRV Heat Exchangers are provided below. 
Both platforms—Heat Recovery Ventilation and Energy Recovery Ventilation—range from 600 to 6,000 CFM and are equipped with modulating ECM fans and optional economizer bypass control.
ULTRA COMPACT & LIGHTWEIGHT
Our units are ⅓ the size and weight of competitive systems. The compact and lightweight design adds significant value for building owners, contractors, and engineers. The size and weight advantage gives designers more options and often solves challenges associated with constrained access, structural requirements and space limitations. Contractors can often save the cost rigging by hand carrying the units up stairwells or elevators.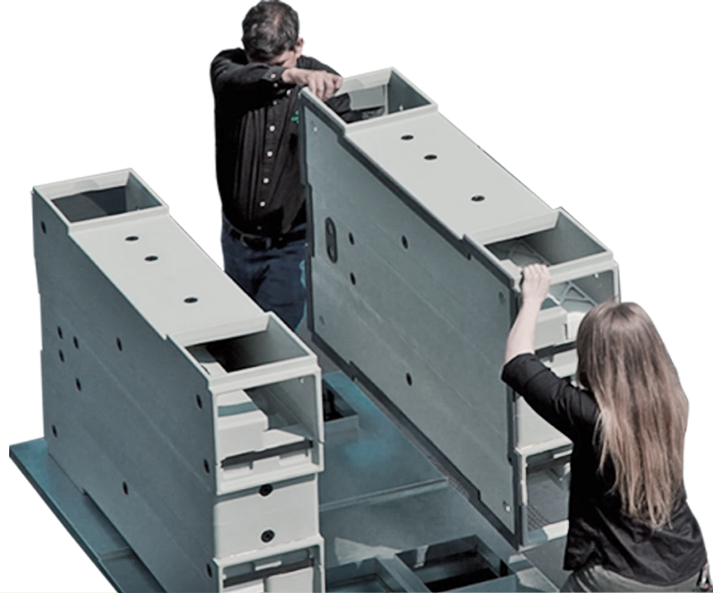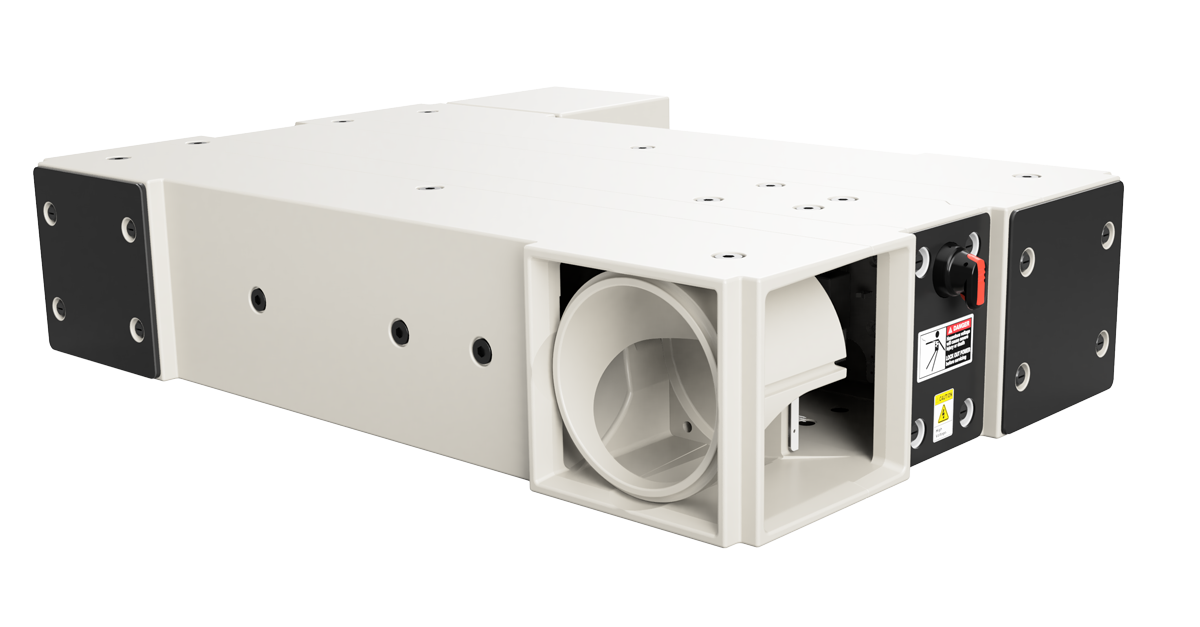 Integrated economizer bypass / defrost control
Our integrated rotating bypass damper option enables economizer function with no additional ducting required.
This unique rotating design enables 100% air flow in economizer mode and closes off the core to prevent any draw-through. The economizer option comes with a temperature and RH sensor package and controls which enable bypass mode based on temperature or enthalpy setpoints. 
The bypass damper also enables a defrost mode to prevent condensate or frost conditions in cold climates. 
Energy Wall® Advanced Recovery Membrane and Heat Exchanger Energy Wall's advanced high efficiency heat and moisture transfer membrane is at the heart of our Universal ERV system. The durable ceramic fiber based material is proven to withstand harsh conditions over time without degradation. The membrane composition has inherent anti-microbial characteristics making it highly effective at deactivating airborne contaminants. The unique counter-flow heat exchanger design contributes to the overall system efficiency.
Heat & moisture transfer EFFICIENCY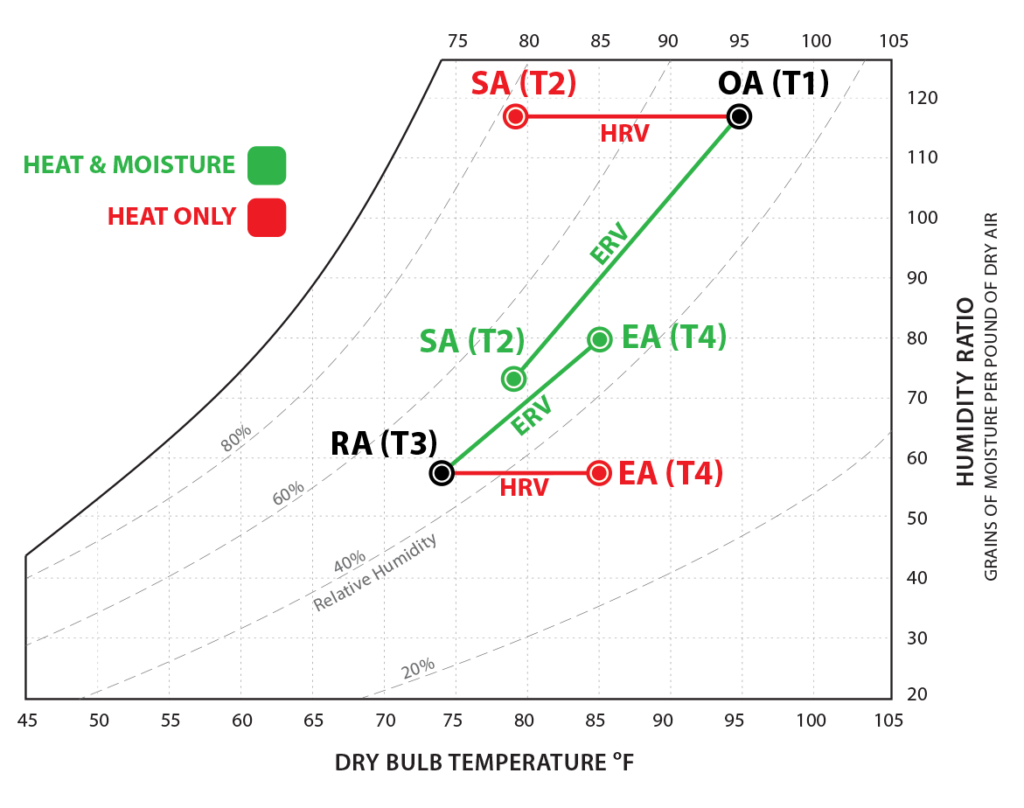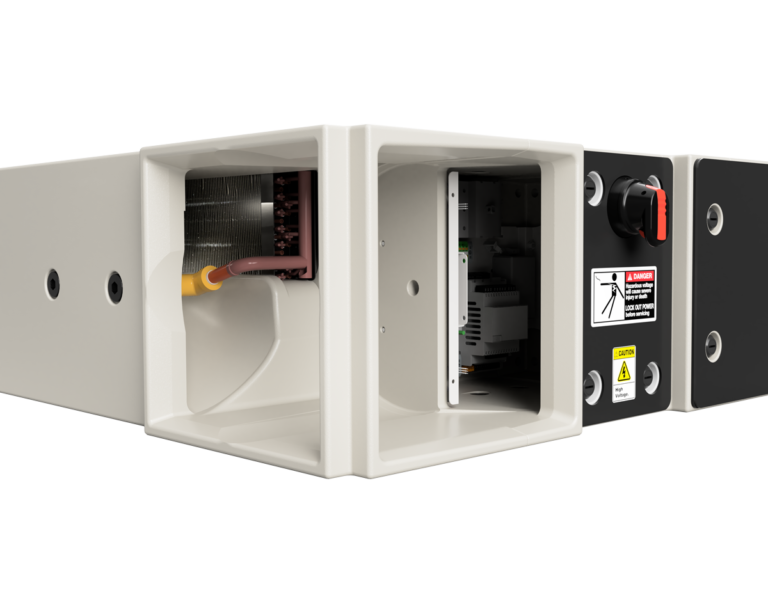 Integrated Cooling Coil
DX integration with VRF AHU kits

Both cooling and heat-pump modes supported

Hydronic option also available

Each U-ERV Unit supports an optional internal coil. The U-ERV DX solution is engineered to support multiple coils using a single VRF AHU Kit and single expansion valve. Non VRF DX systems are also supported. The U-ERV coil had been engineered to support leading VRF manufacturers' third party coil requirements. 
The Hydronic coil supports both heat and cooling options. 
The U-ERV comes standard with a controller with onboard HMI. 
Available Fan Control Modes: 
Manual – Fan speeds are set using the factory programed HMI interface. 

Analog – Fan speeds are controlled using 0 – 10v signal from a remote device or Building Management System (BMS) 

BMS Protocol – BACnet or Modbus protocols are used to control the fans speeds and system operation. BACnet licensing is required. 

CO2 Demand Control – Operation is optimized to respond to space CO2 levels, using modulating fan speed control. 

Pressurization – Fan speed is modulated to maintain duct or space pressurization.